Active ingredients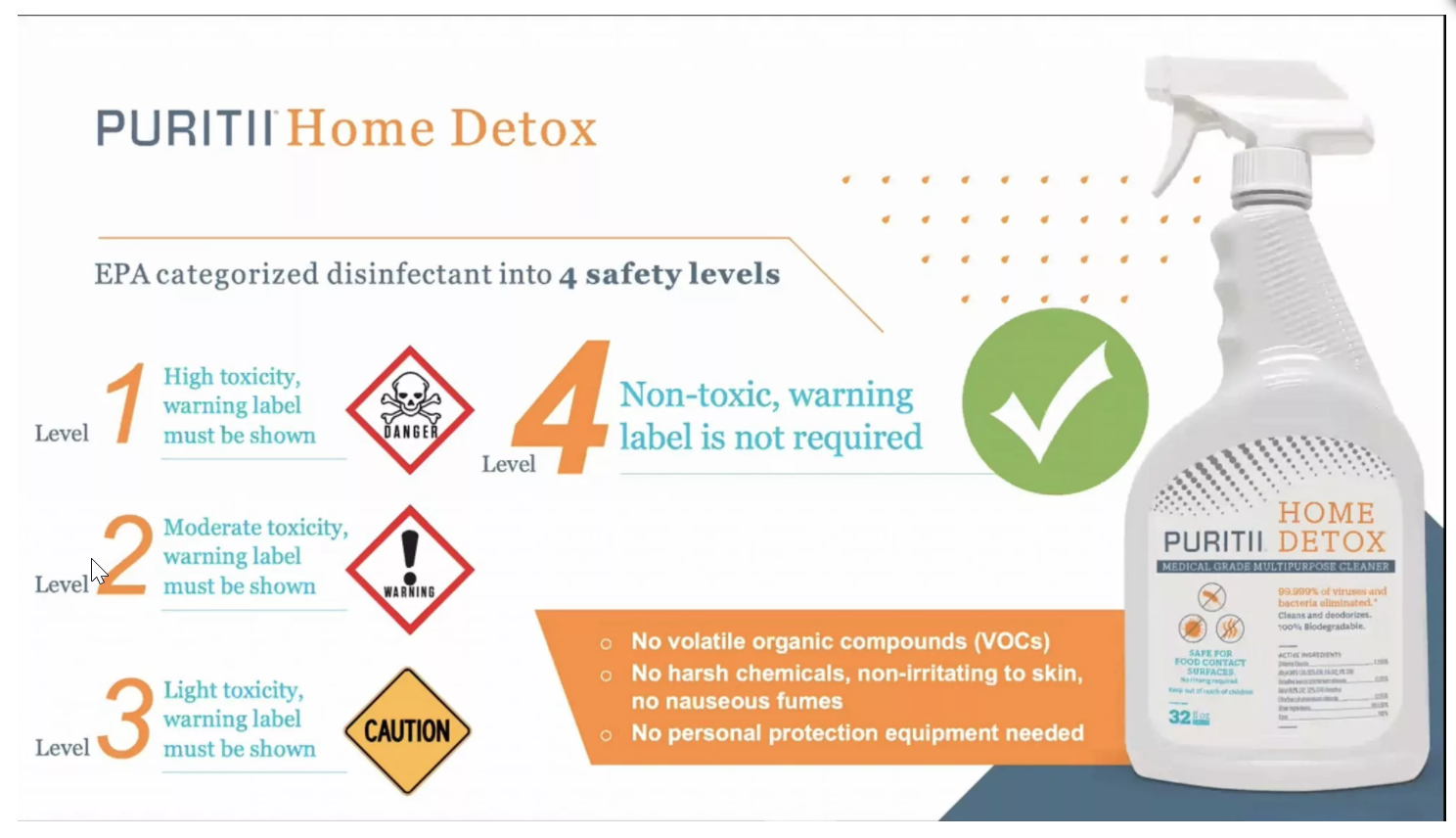 Frequently Asked Questions
WHAT IS IN PURITII HOME DETOX?
The active ingredient is chlorine dioxide (ClO2). While it has chlorine in its name, the chemistry is very different than the corrosive chemistry of chlorine bleach. ClO2 is safer and gentler than bleach and other antiseptics and remains effective under organic load. Also unlike bleach, which produces environmentally harmful substances like trihalomethane (THM) and haloacetic acid (HAAS), Home Detox breaks down to a simple salt, meaning it's safe for the environment by producing no harmful by-products.
WHAT MAKES PURITII HOME DETOX UNIQUE?
Not all disinfectants are created equal! Home Detox is not only effective at killing microbes and odors, but it's also safe! Most disinfectants and mold removers on the market are extremely toxic, but Home Detox gives you peace of mind that you are using a product that's not only effective, but also nontoxic and free from worrisome safety warnings and precautions.
WHAT DOES "NO RINSE REQUIRED ON FOOD CONTACT SUFACE" MEAN?
This safety rating given by NSF International means Home Detox abides by USDA product approval for use in commercial or residential kitchens to control bacteria, viruses and mold without the need to wash or rinse the area after Home Detox is applied.
HOW DO I USE PURITII HOME DETOX?
Use Home Detox as your one-step solution to clean, disinfect and deodorize.
Pre-Clean:

Before disinfecting, clean the area of heavy soil. Spray Home Detox straight onto the soiled area, scrub and wipe with a clean cloth.
Disinfect Hard Surfaces:

Disinfect hard, non-porous surfaces by wetting the pre-cleaned area thoroughly with Home Detox. Allow the surface to remain wet for five minutes for virucide and 10 minutes for bacteria disinfection.
Prevent Mold and Mildew:

Remove as much dirt and visible mold as possible by cleaning. Then, spray Home Detox from a distance of 12 inches until visibly wet. Let air dry.
Deodorize:

Spray, fog or wipe Home Detox onto the affected area and let air dry to provide long- lasting deodorizing results. When fogging, follow the manufacturer's directions for use. Home Detox must come into contact with the source of the smell to be effective.
Sanitize Food Surfaces: Pre-clean and rinse glassware, utensils, cookware and dishware. Sanitize by immersion in one part Home Detox mixed with nine parts water for one minute. Place on a rack to air dry. Do not rinse or wipe. For food-contact surfaces, wet area with full-strength Home Detox. Let stand for one minute. Allow the area to air dry. Do not rinse or wipe.
Allergen Removal:

Set the trigger on Home Detox to SPRAY. Spray the affected area, wait one minute and wipe away any excess product. Allow the area to air dry. If you notice streaking, wipe it away with a clean, damp cloth.